Foreword – By David Tame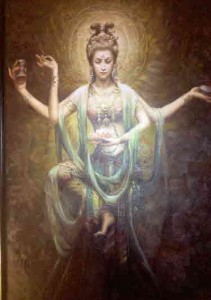 Extraordinary lives are usually lived by extraordinary people. Gene O'Neil is, without a doubt, an extraordinary person who became that way because of his many unusual, miracle-filled and frankly stunning experiences. Gene wouldn't call himself exceptional; in his words he's a regular "hard-headed" guy who was chosen, for some reason, to experience life in a most unusual way. Until he set his experiences down on paper, I didn't quite know just how profound his stories were. They transformed me and they probably will you—in fact, Gene intends his life story to be a prologue and a stepping-stone for you to look at your own life in a new light.
Gene's experiences propelled him onto a spiritual path, although not of the monk-in-a-cave variety. These days, we can find mystical people of all kinds anywhere. Gene is here to show us that anyone's life becomes mystical when it is lived as "an upraised chalice." Be open to
God's Presence in your life—place that first—and all will be well with you. In fact, miracles may become quite ordinary.
I first met Gene in the closing days of June 1999. I was due to arrive from England at a point near his home in Vermont and to be picked up by him so as to stay overnight, after which it was arranged we'd both go the next day a few hours further to a twelve-day spiritual retreat. I'd flown into Boston and then caught a bus into the green, wooded hills of New England. And being English, perhaps in the back of my mind, I had expected some formal greeting as Gene drew up in his car. Well, Gene is a man of action, very much anchored in the physical world. And while our meeting was fine, my baggage was in the trunk and we were underway within mere seconds, Gene also introducing me to the NASA employee, Alex, who was with him.
Upon reaching his 100 acres of land in the Vermont hills, with its beautiful brooks and waterfalls, before ever reaching the house or getting my head under a roof, Gene prevailed upon us that we must first visit his special waterfall swimming place. A few hours before, I had been 30,000 feet in the air. Now, again a fair distance above sea level and in the slightly chilly and drizzly late afternoon, I found myself climbing down rocks surrounded by thick woods in the wake of Gene and a NASA scientist to go skinny-dipping in a deep, natural pool, fed by a magical waterfall and its refreshingly cold, mountain water!
That evening, and on many evenings to come, I got to know Gene better. We soon discovered that we had in common the challenging overland journey young people used to take in the '60s and '70s, from Europe to India and the Himalayas. We'd both undertaken this lifechanging rite of passage at exactly the same ages of 21–22, but Gene ahead of me by three years. I held the special knife, with the sun inlaid on one side of the handle and the moon on the other, given to him in the Himalayas by a Buddhist lama.
And I heard from Gene's own lips—as you'll read here—of the astonishing encounter with a reature, with it on the outside of the barred door of a yak-herder's hut and Gene and his friend on the inside. When he writes of this encounter in this book: "We threw ourselves up
against the far wall and grabbed for our knives, terrified as to what would surely come next," it is this ceremonial knife from that Tibetan lama that Gene had in his hand.
Gene isn't an air-headed visionary; he doesn't make up stories. So when he relates, for instance, that Archangel Michael spoke to him and saved his life, I believe it's the solid truth—and one that is, in fact, more real than ordinary and mundane experience, because it reveals to us the exalted Reality beyond this one. Such experiences afford us important glimpses into a way of life that has an expanded purpose and perspective—a life lived as an upraised chalice.
Gene believes his extraordinary life was indeed renewed more than once for higher purposes. One of these purposes is most assuredly the recording of his experiences and collecting them here in a labor of love and gratitude—to God and His emissaries, for posterity, but more directly and most sincerely, for you.
David Tame is the author of The Secret Power of Music and Beethoven and the Spiritual Path